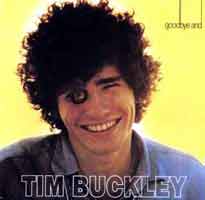 Artist
Tim Buckley
Albumtitel
Goodbye And Hello
Label
Elektra
Veröffentlichung
Nov 1967
Aufnahme
08.05.1967 - 19.05.1967
Format
Album (LP)
Zugriffe auf die Seite
286685
Bewertung nach Bestenlisten
Gesamt: 6.9% bis Platz 500
Platz 516 von 1000 Virgin
Musiker
Tim Buckley (v, 12string-ag), Lee Underwood (g), Eddie Hoh (dr), Carter C.C. Collins (congas), Jim Fielder (bg)

zusätzliche Musiker:

John T. Forsha (g), Jimmy Bond (db), Don Randi (keyb), Jerry Yester (keyb, v), Henry Diltz (hp), John Clauder (dr), Jim Gordon (dr)
Produzent
Jerry Yester
Zitate
Bevor sich Tim Buckley in den 70igern von Jazz Rhythmen davonreißen lies, machte er zutiefst ergreifenden Folk-Rock, der seine unglaubliche Stimmbreite und nachdenklichen Texte voll zur Geltung brachte, sowie auch seine gelegentliche Vorliebe für überraschend souligen, schwarzen Groove und ansteckende Jangle-Pop-Melodien. Goodbye and Hello, sein zweites Album (aufgenommen 1967 mit zarten 20 Jahren) liefert die ganze Bandbreite. Buckley deutet den Aufschrei der Sinne an, der in den 70ern aufkommen sollte ("I Never Asked to Be Your Mountain", "Pleasant Street", "Hallucinations"). In einigen seiner Songs kommt zwar ein wenig der Hippie-Dichter-Denker durch, allerdings überwiegen eindeutig seine hervorragenden Folk-Soul Tracks.
Lorry Fleming (Amazon)
---
Endlich gibt es die zweite LP des feinfühligen Songpoeten aus Los Angeles auf CD. 1967 war diese LP eine Sensation. Noch nie zuvor hatte man eine der- art wandlungsfähige Stimme gehört. Doch auch die Songs - teilweise mit dem Dichter Larry Beckett verfaßt - boten Folkrock der Spitzenklasse, Morning Glory nahmen später Blood, Sweat & Tears auf. Keine Frage: Mit dieser CD liegt ein Meilenstein vor.
© Audio
---
Knapp zwanzig Jahre alt war er, als er dieses zweite, durchweg geniale Album aufnahm. Es gelangen ihm wundervolle Folk-Pretiosen von ungeahnter Tiefe, mit Seele und bezwingenden Melodien, inspiriert von seinem Idol Fred Neil. Von den Jazz-Einflüßen der späteren Platten war hier nichts zu spüren, erste Kostproben des charakteristischen Stimmumfangs gab es aber schon.
(Glitterhouse)
---
Often cited as the ultimate Tim Buckley statement, Goodbye and Hello is indeed a fabulous album, but it's merely one side of Tim Buckley's enormous talent. Recorded in the middle of 1967 (in the afterglow of Sgt. Pepper), this album is clearly inspired by Pepper's exploratory spirit. More often than not, this helps to bring Buckley's awesome musical vision home, but occasionally falters. Not that the album is overrated (it's not), it's just that it is only one side of Buckley. The finest songs on the album were written by him alone, particularly "Once I Was" and "Pleasant Street." Buoyed by Jerry Yester's excellent production, these tracks are easily among the finest example of Buckley's psychedelic/folk vision. A few tracks, namely the title cut and "No Man Can Find the War," were co-written by poet Larry Beckett. While Beckett's lyrics are undoubtedly literate and evocative, they occasionally tend to be too heavy-handed for Buckley. However, this is a minor criticism of an excellent and revolutionary album that was a quantum leap for both Tim Buckley and the audience.
(by Matthew Greenwald, All Music Guide)